Beauty in the kitchen?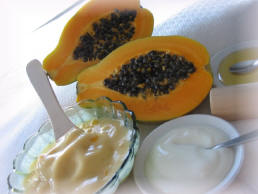 Beauty in the kitchen

As you already guessed from the picture title, today I would like to intrigue you with the subject of finding beauty in the kitchen.
I know that all of you, passionate cooks, could talk about this subject for hours - how and where 'You' see the beauty in the kitchen. But I am afraid, today, it's not going to be beauty under that metaphor veil. Today, we are going to get our hands 'real' dirty with getting 'real' beauty - live, you know!
Well, nobody said, it was easy getting beautiful, so roll your sleeves up and get cracking.
Stop! By cracking I didn't mean scrubbing the kitchen floor...!
I meant evaluating current affairs of your kitchen stock. Fruit, vegetables, seeds and nuts, yoghurt pots, etc.
And just before you might start thinking I am loosing the plot, here's the revelation:
We are about to venture into the secrets of
beauty facial masks.
Aaaaah, doesn't it sound so.......elegant, so posh.
Well, maybe not quite when your face is covered in mashed bananas with yoghurt and two cucumber circles on your eyes. But don't give in, don't give up! The beauty is just - few mixed ingredients, 5 minute dream and your partners' 'you-scared-the-hell-out-me' - away.
And that's not the only use the all-kitchen-favourites (think chocolate, honey, cream,..) can get....I am sure you get the picture, hehe.
It is fantastic and logical at the same time how the 'healthy' food - fruits, vegetables, pulses, oats, herbs, nuts, honey, etc. - that does miracles for your inner health, can do the same with your outer beauty too (e.g. face).
And in fact, they are very much connected - eating too much chocolate won't benefit your body circumference nor your complexion.
But since this is a food blog and not a weekly beauty guide, let's take a look at the actual recipes' whipping-up:
For all the beauty benefits of the mask ingredients - see
http://www.angelfire.com/realm2/amethystbt/herbscosmeticapothecary.html
http://www.ballymoon.biz/articles/facialsteams.htm
and many more under 'facial masks' in Google search.
Quick guide
Tomato:
astringent and a good blackhead remover. Pulp it up and mix with oatmeal, or slice and lay on the face on its own.
Apple:
grate an apple and mix with honey to make a mask that soothes and heals acne, and makes your skin look great.
Strawberry:
a good oily skin mask. Pulp it up, smear it on the face, wash off. Makes the skin look soft and fine. A good use for over-ripe or bruised berries.
Avocado:
Moisturising. I find it's too oily for my skin, but I've heard good reports from others.
Banana:
Also a moisturiser.
Carrot:
Grate a carrot, add honey, use as a facial for oily skin. Or you can mash up a cooked one.
Peach:
A nice, good-smelling mask for dry or normal skin.
Cucumber:
On its own, is cleansing, astringent and cooling during hot weather. Juice a cucumber and wipe the juice over the face. It will reduce shine and the appearance of wrinkles.
Peppermint:

Fantastic for acne, especially the itchy underground type. In fact, it soothes itchy skin in general.
Chamomile:

Soothing and healing.
Lime Flower (linden):

Soothing and softening, refines skin texture. Also supposed to remove wrinkles.
Papaya Mask
(helps to remove dead skin)
¼-cup mashed (ripe) papaya
1-teaspoon plain yogurt
½-teaspoon of honey
Mix all ingredients until paste like. Put on face, leave on for 15 minutes and rinse with warm water.
Note: if you have oily skin – do not allow your mask to over dry. Your brain will register the loss of water in the over-drying process and produce more oil.
This oil will not show up on the skin until about 48 hours after the treatment.
Honey Mask
Honey is a lovely mask. Massage it into your skin, and keep adding more and patting it on till your face is very tacky. Rinse it off, and your skin will look fresh and glowing. Honey is antiseptic, hydrating and cleanses the pores. However, if you're prone to odd pimples, don't use this before a big night as it has the ability to bring impurities out of the skin.
Oatmeal and Honey Mask
Mix oatmeal, either cooked or raw, with enough honey to make it sticky. Apply, leave for twenty minutes or so, and rinse off with plenty of water. It will tone oily skin, refine the texture of the pores, and gently lift a face that's in general poor condition, especially after illness or depression.
You can find much more recipes on the above web sites, for all kind of things like moisturizers, hand creams, conditioners; for all skin types.
So be a
kitchen goddess in every sense!